This breed of pig is a descendant of the red pig in America and the Iberian pig. Steirerfleisch and its partner companies have revived the rearing of this breed.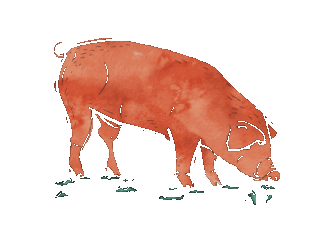 This breed originated as a cross between pigs from Guinea and the Iberian pig. The resulting "Red Duroc" was bred in America. This breed's characteristics are the light to dark red colouring and the relatively small floppy ears.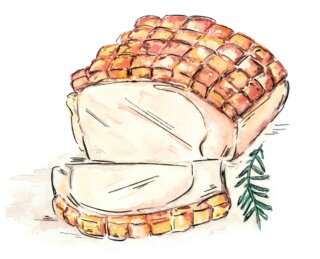 Finely marbled, full flavour!
If the meat has fine lines of fat running through it, this is known as "marbling": and this means an extraordinarily succulent and tasty piece of meat, as we know from various types of beef. Duroc has exactly this type of marbling, but without being fatty; the lightly nutty, full-bodied flavour is a pleasure that you shouldn't miss.
Animal welfare: well of course!
Duroc is a breed of pig which is now being bred in Styria again. The AMA seal of quality for regional origin confirms that these animals are only reared in Styria in accordance with the requirements of Agrarmarkt Austria (AMA – agricultural market Austria). Furthermore, we also observe additional requirements to increase the well-being of the animals during rearing – for this, the AMA seal of quality including "further animal welfare" will be awarded. Mühlenhof is a company that complies with all of this, and only supplies Steirerfleisch meat.
To Mühlenhof-Site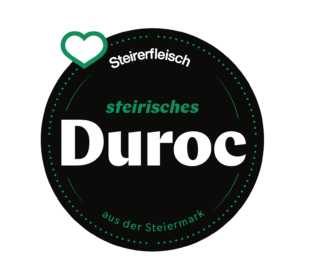 There are now other companies in Styria who are also breeding Duroc pigs; and their regional origin is guaranteed as well. We're marketing these products as 'Styrian Duroc'.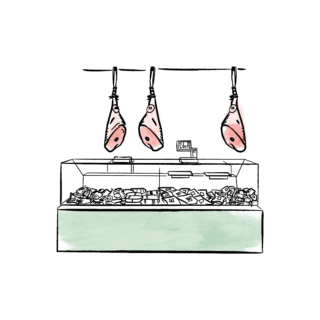 Where can you buy our Duroc?
You can get Duroc products from the following partners: